If you are facing slow computer performing problem then this tutorial will help you to run your computer smooth & faster then ever. Just download the below given software & watch our video tutorial to learn how to use this software to speed up your slow computer. If you are a gamer or a video editor or a programmer, this will help your pc to run faster & smoother. This is the most easiest way to speed up a slow performing computer in 2 steps. please download below given software at first.
Watch this Video Tutorial at First & Download the Software from the below Description:
1. Download Ultimate Windows Tweaker 4 for Windows 10:
The most popular tweaking software, Ultimate Windows Tweaker 4 for Windows 10 adds several new tweaks for the new operating system. Those of you who have upgraded to Windows 10, would definitely want to use it to judiciously tweak your Windows 10 and personalize your computing experience. With judicious tweaking, it can make your system faster, more stable, personal and more secure with just a few mouse clicks.
Ultimate Windows Tweaker is like a TweakUI for Windows 10. While you may be able to access all these via the Windows 10 Settings app, the Registry Editor or the Group Policy Editor, Ultimate Windows Tweaker makes things easier for you by offering all useful tweaks from its single UI.
2. Download Glary Utilities 5
Glarysoft Ltd. developed Glary Utilities Pro to be an all-in-one PC system utility software program that can free up disk space, clean the registry, manage the drivers, tighten up privacy and maintain security protocols. There are over 20 tools in this software suite designed to improve and optimize your computer. In our tests, this app produced the best results and had a high diagnostic consistency score.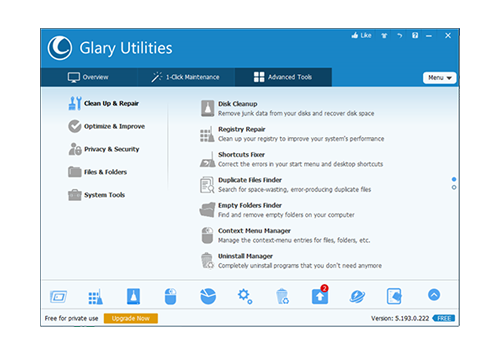 Provides a one-stop solution for PC performance optimization
Boosts PC speed and fixes frustrating errors, crashes and freezes
Features one-click functionality and easy, automated options
Protects your privacy and makes your computer faster and clean